March 21, 2012 @ 6:13 PM
We are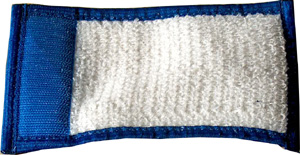 always surprised at the innovative ways that people use our products.
We recently heard from a customer, who found that the scrubber pad (as shown), that comes with the Blue Wonder mopping system, worked very well in removing the blue ring around the drain in her bath tub. She wasn't sure if it was chlorine or sediment coming from their copper pipes, but she was thrilled with the results.
Have any of our Blue Wonder cleaning products solved a particular cleaning challenge for you? We would love to hear about it!